SCHEDULE OF EVENTS 2008

(Changes are possible)
EXCHANGE OF IDEAS: Join us - you are welcome to participate (winner or not, entrant or not) at these WorldMediaFestival-events:
When you are not a winner/entrant - please register here
Winners: You will receive a special link included in the winner's notification.
Please make sure to use that link for your registrations. Thank you!
The delegate fee is EURO 225 or US$ 330 per person plus VAT and includes everything listed below.
All events are only for registered guests. As a registered guest you will receive all further programme details.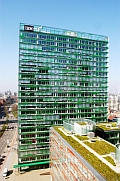 Workshops

IBM Deutschland GmbH | Beim Strohhause 17 | 20097 Hamburg
Meeting point: Reception 1st floor
15:00 h
Room 01.022 Lauenburg | Tel (040) 6389-2968
Opening address by Götz Mensel - IBM Deutschland GmbH
15:15 h
"Quality of digital video ( CODECS, Bitrates and more),
theory of up-to-date compression technologies and practical quality examples".
Presented by Norman Schlomka, FOCUS enhancements
15:45 h
"Media Asset Management, easy and affordable technology for effective worldwide distribution of video content".
Presented by Thomas Lehmann, SOGIDIA AG
16:30 h
Discussions and end of workshops
Get-Together Reception in co-operation with Germanischer Lloyd AG
Vorsetzen 35 | 20459 Hamburg | (040) 36149-0
17:30 h - 19:30 h
It is all about communications - meet this years' festival participants at the informal Get-Together. Make contacts, start networking. Finger food and drinks will be served. The remaining evening is at your leisure.
May 14, Wednesday - during the day :


Screenings | Presentations | Digital Professional Media Resource Centre
Schmidt Theater | Spielbudenplatz 24-25 | 20359 Hamburg
09:30 h - 15:00 h
Refreshments and light lunch buffet provided
09:30 h
WorldMediaFestival 2008 opens for guest registrations
10:00 h Schmidt Theatre
Opening address of the 9th WorldMediaFestival
by Mr. Grant Eustace, Member of the Distinguished Board of Advisors
10:10 h - 15:00 h
Screenings of selected award winning programmes and presentations
-
DEUTSCHE BAHN KONZERNTREFF 2006
Internal Communications: Meeting Openers, Breaks, Closers
Entrant: Cineteam Mediaworks GmbH, Germany
Client: Deutsche Bahn AG, Germany
03' 32", Music only
English subtitles
-
BECAUSE WE CARE
Training: Safety
Entrant: DeCo Media Oy, Finland
Client: Aker Yards Finland, Finland
11' 10", English
-
VOLVO - 80 YEARS IN 90 SEC
Sales Promotions: Exhibitions
Entrant: DOCKHOUSE FILM & TELEVISION AB, Sweden
Client: Volvo Car Corporation, Sweden
Agency: SCP Reklambyrå, Sweden
01' 30", Music only
-
CUTTLEFISH - THE BRAINY BUNCH
Documentaries: Research and Science
Entrant: Westdeutscher Rundfunk Köln, Germany
Production: Gisela Kaufmann Productions, Australia
Agency: Electric Sky, Great Britain
20' out of 43, English
-
RESPECT REQUIRED
PORSCHE 911 GT2
Public Relations: Automotive
Entrant: Klaus E. Küster Werbeagentur GmbH, Germany
Production: Pipeline Filmproduktion e.K., Germany
13' 16", English
-
HEARTLINES FOR GOOD
Advertising: Public Service Announcements
Entrant: Curious Pictures, South Africa
Client: Heartlines, South Africa
01' 35", English

Key Note Presentation by
Frank Poerschmann Dipl. Eng., MBA
"END OF ADVERTISING AS WE KNOW IT" http://www-03.ibm.com/industries/media/index.jsp

Frank Poerschmann has been in different international consultancy and senior management positons in the convergence markets of telecommunications, media and IT for more than 15 years. Currently in Global Business Services at IBM - responsible to both customers and the company for global and complex convergence and transformation matters in corporations in the mobile, online and media industries.

-
THE AIR FORCE SPECIAL TRAINING:
THE SHADOWS OF THE SKY
Corporate Communications: Recruiting
Entrant: Frame Graphics Oy, Finland
Client: Finnish Air Force Headquarters, Finland
07' 38", Finnish
with English subtitles
-
THE HIDDEN CHILDREN
Documentaries: History
Entrant: Jonathan Hacker, Great Britain
Production: Screenhouse Productions, Great Britain
20' out of 49, English
-
PRAYING FOR A FUTURE
Public Relations. Global Issues
Entrant: NNIT A/S- FilmSolutions, Denmark
Client: World Diabetes Foundation, Novo Nordisk, Denmark
15' 17", English
-
PRINCE AMONG SLAVES
Documentaries: Biography
Entrant: Unity Productions Foundation, USA
Agency: Louise Rosen Ltd., USA
20' out of 56, English
-
AUS LIEBE ZUM LEBEN
Public Relations: Society
Entrant: Intevi Werbeagentur GmbH, Germany
Client: Johanniter-Unfall-Hilfe e.V., Germany
Production: Palladium Commercial Productions GmbH, Germany
Agency: Morgenwelt Agentur für Social Marketing, Germany
03' 50", Music only
-
THE NANOTECH MEDICAL TEAM: DR.MIRAI & ROBOTS!
Children's: Animation
Entrant: Taiyo Kikaku Co.Ltd., Japan
Client: Mitsubishi Minatomirai Industrial Museum
(Mitsubishi Heavy Industries, Ltd.), Japan
10' 20", English
-
BARCELONA THE VERTEBRATED CITY
Documentaries: Travel
Entrant: CORPORACIÓN RTVE, Spain
20' out of 60, English
-
GALLI GALLI SIM SIM
Education: Pre-School, Kindergarten
Entrant: Sesame Workshop, USA
Production: Miditech PVT. LTD., India
23' 10", Hindi
with English Subtitles
-
TRUE
Public Relations: Image
Entrant: Klaus E. Küster Werbeagentur GmbH, Germany
Client: Adolf Würth GmbH & Co. KG, Germany
Production: Fratelli Spirandelli Produktionsgesellschaft, Germany
07' 45", English
-
THE PLANET
Documentaries: Global Issues
Entrant: Westdeutscher Rundfunk Köln, Germany
20' out of 85, English
-
CADS II
Public Relations: Safety
Entrant: DOCKHOUSE FILM & TELEVISION AB, Sweden
Client: Volvo Car Corporation, Sweden
Agency: A+A Corporate Design AB, Sweden
05' 00", English
-
SAFE AT LAST
Public Relations: Human Relations and Values
Entrant: MAJI & MAJI Filmproduktion GmbH, Germany
Client: Conseil de L'Europe, France
00' 30", English
-
LET'S GO
Internal Communications: Employee Orientated
Entrant: TakeOff AB, Sweden
Client: SSAB Svenskt Stål AB, Sweden
14', 50", English
-
MATSUTANI 1
Public Relations: Arts
Entrant: RaRa Project, Japan
Client: Committee of Japanese Identity and Culture Promotion, Japan
Production: Creative House Okumura, Japan
14' 45", English
-
DODGE JOURNEY
Animation: Computer
Entrant: MACKEVISION Medien Design GmbH, Germany
Client: DaimlerChrysler Corporation, USA
01' 35", Music only
-
NOBODY IS ALONE
Internal Communications: Safety
Entrant: DeCo Media Oy, Finland
Client: Rautaruukki Oyj, Finland
05' 54", English
-
CC TV DECEMBER PROGRAMME HSBC LIVE! TV
Business TV / Inhouse TV: Internal Communications
Entrant: HSBC, Great Britain
09' 35", English


10:00 h - 15:00 h Salon Schmidt 2nd floor
Digital Professional Media Resource Centre

Make use of the digital mediatheque and view those award winning entries you are particularly interested in, talk to those who have made or commissioned them. After all - WorldMediaFestival has been created to support the exchange of ideas and to inspire new creative solutions.
15:00 h
End of day events
May 14, Wednesday - and in the evening :
17:00 h - open end
Reception | Awards Gala | Sit-down dinner | Drinks | Entertainment | Media Party


"Simply the best . . . " we celebrate the winners !

Not at Schmidt Theatre -
details about the evening location will be announced at a later date.
Welcome to WorldMediaFestival in Hamburg -
we look forward to seeing you soon !