FESTIVALPROGRAMM 2008

(Änderungen sind möglich)
IDEENBÖRSE: Seien Sie dabei - Sie sind herzlich willkommen, an allen WorldMediaFestival- Events teilzunehmen - ob Sie nun ein Preisträger/Einreicher sind - oder auch nicht.
Wenn Sie kein Preisträger/Einreicher sind - bitte hier anmelden
Preisträger: Sie erhalten einen besonderen Link mit Ihrer Gewinnerbenachrichtigung.
Bitte benutzen Sie nur diesen Link für Ihre Registrierungen. Vielen Dank!
Die Gebühr für Ihre persönliche Teilnahme beträgt EURO 225 oder US$ 330 pro Person zuzüglich gesetzlicher Mehrwertsteuer und beinhaltet alle nachstehenden Programmpunkte.
Teilnehmen können nur angemeldete Gäste, die auch die weiterführenden Informationen erhalten.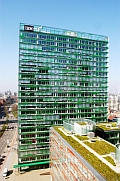 Alle Workshops in englischer Sprache
Workshops


IBM Deutschland GmbH | Beim Strohhause 17 | 20097 Hamburg
Treffpunkt: Rezeption im 1. Stock
15:00 Uhr
Raum 01.022 Lauenburg | Tel (040) 6389-2968
Begrüssung durch Götz Mensel, IBM Deutschland GmbH
15:15 Uhr
"Qualität von digitalen Videos (CODECS, Bitraten und vieles mehr) mit theoretischen Grundlagen und Qualitätsbeispielen aus der Praxis".
Präsentation von Norman Schlomka, FOCUS enhancement
15:45 Uhr
"Media Asset Management als Grundlage für eine effektive weltweite Distribution von Videos"
Präsentation von Thomas Lehmann, SOGIDIA AG
16.30 Uhr
Diskussionen und Ausklang der Workshops
Get-Together Empfang in Kooperation mit Germanischer Lloyd AG
Vorsetzen 35 | 20459 Hamburg | (040) 36149-0
17:30 Uhr - 19:30 Uhr
It is all about communications - treffen Sie die diesjährigen Festivalteilnehmer beim informellen Get-Together. Knüpfen Sie Kontakte und beginnen Sie mit dem Networking. Fingerfood und Getränke werden serviert - der verbleibende Abend steht zu Ihrer freien Verfügung.
14. Mai Mittwoch - während des Tages :


Vorführungen | Präsentationen | Digital Professional Media Resource Centre
Schmidt Theater | Spielbudenplatz 24-25 | 20359 Hamburg
09:30 Uhr - 15:00 Uhr
Erfrischungen und ein leichtes Mittagsbuffet stehen zur Verfügung
09:30 Uhr
Registrierung der 2008 WorldMediaFestival-Gäste
10:00 Uhr Schmidt Theater
Eröffnung des 9. WorldMediaFestival 2008 -
durch Mr. Grant Eustace, Mitglied des Board of Advisors
10:10 Uhr - 15:00 Uhr
Vorführung ausgewählter preisgekrönter Programme und
Präsentationen
-
DEUTSCHE BAHN KONZERNTREFF 2006
Internal Communications: Meeting Openers, Breaks, Closers
Entrant: Cineteam Mediaworks GmbH, Germany
Client: Deutsche Bahn AG, Germany
03' 32", Music only
English subtitles
-
BECAUSE WE CARE
Training: Safety
Entrant: DeCo Media Oy, Finland
Client: Aker Yards Finland, Finland
11' 10", English
-
VOLVO - 80 YEARS IN 90 SEC
Sales Promotions: Exhibitions
Entrant: DOCKHOUSE FILM & TELEVISION AB, Sweden
Client: Volvo Car Corporation, Sweden
Agency: SCP Reklambyrå, Sweden
01' 30", Music only
-
CUTTLEFISH - THE BRAINY BUNCH
Documentaries: Research and Science
Entrant: Westdeutscher Rundfunk Köln, Germany
Production: Gisela Kaufmann Productions, Australia
Agency: Electric Sky, Great Britain
20' out of 43, English
-
RESPECT REQUIRED
PORSCHE 911 GT2
Public Relations: Automotive
Entrant: Klaus E. Küster Werbeagentur GmbH, Germany
Production: Pipeline Filmproduktion e.K., Germany
13' 16", English
-
HEARTLINES FOR GOOD
Advertising: Public Service Announcements
Entrant: Curious Pictures, South Africa
Client: Heartlines, South Africa
01' 35", English

Key Note Präsentation von
Frank Poerschmann, Dipl.-Ing., MBA
"END OF ADVERTISING AS WE KNOW IT" http://www-03.ibm.com/industries/media/index.jsp

Diskussionen willkommen

Frank Poerschmann ist seit über 15 Jahren in unterschiedlichen internationalen Beratungs- und Führungsfunktionen in den Konvergenzmärkten Telekommunikation, Medien und IT tätig; zur Zeit IBM Global Business Services: Internationale Kunden- und Geschäftsverantwortung für globale und komplexe Konvergenz- und Transformationsvorhaben von Unternehmen in der Mobilfunk-, Online- und Medienindustrie.

-
THE AIR FORCE SPECIAL TRAINING:
THE SHADOWS OF THE SKY
Corporate Communications: Recruiting
Entrant: Frame Graphics Oy, Finland
Client: Finnish Air Force Headquarters, Finland
07' 38", Finnish
with English subtitles
-
THE HIDDEN CHILDREN
Documentaries: History
Entrant: Jonathan Hacker, Great Britain
Production: Screenhouse Productions, Great Britain
20' out of 49, English
-
PRAYING FOR A FUTURE
Public Relations. Global Issues
Entrant: NNIT A/S- FilmSolutions, Denmark
Client: World Diabetes Foundation, Novo Nordisk, Denmark
15' 17", English
-
PRINCE AMONG SLAVES
Documentaries: Biography
Entrant: Unity Productions Foundation, USA
Agency: Louise Rosen Ltd., USA
20' out of 56, English
-
AUS LIEBE ZUM LEBEN
Public Relations: Society
Entrant: Intevi Werbeagentur GmbH, Germany
Client: Johanniter-Unfall-Hilfe e.V., Germany
Production: Palladium Commercial Productions GmbH, Germany
Agency: Morgenwelt Agentur für Social Marketing, Germany
03' 50", Music only
-
THE NANOTECH MEDICAL TEAM: DR.MIRAI & ROBOTS!
Children's: Animation
Entrant: Taiyo Kikaku Co.Ltd., Japan
Client: Mitsubishi Minatomirai Industrial Museum
(Mitsubishi Heavy Industries, Ltd.), Japan
10' 20", English
-
BARCELONA THE VERTEBRATED CITY
Documentaries: Travel
Entrant: CORPORACIÓN RTVE, Spain
20' out of 60, English
-
GALLI GALLI SIM SIM
Education: Pre-School, Kindergarten
Entrant: Sesame Workshop, USA
Production: Miditech PVT. LTD., India
23' 10", Hindi
with English Subtitles
-
TRUE
Public Relations: Image
Entrant: Klaus E. Küster Werbeagentur GmbH, Germany
Client: Adolf Würth GmbH & Co. KG, Germany
Production: Fratelli Spirandelli Produktionsgesellschaft, Germany
07' 45", English
-
THE PLANET
Documentaries: Global Issues
Entrant: Westdeutscher Rundfunk Köln, Germany
20' out of 85, English
-
CADS II
Public Relations: Safety
Entrant: DOCKHOUSE FILM & TELEVISION AB, Sweden
Client: Volvo Car Corporation, Sweden
Agency: A+A Corporate Design AB, Sweden
05' 00", English
-
SAFE AT LAST
Public Relations: Human Relations and Values
Entrant: MAJI & MAJI Filmproduktion GmbH, Germany
Client: Conseil de L'Europe, France
00' 30", English
-
LET'S GO
Internal Communications: Employee Orientated
Entrant: TakeOff AB, Sweden
Client: SSAB Svenskt Stål AB, Sweden
14', 50", English
-
MATSUTANI 1
Public Relations: Arts
Entrant: RaRa Project, Japan
Client: Committee of Japanese Identity and Culture Promotion, Japan
Production: Creative House Okumura, Japan
14' 45", English
-
DODGE JOURNEY
Animation: Computer
Entrant: MACKEVISION Medien Design GmbH, Germany
Client: DaimlerChrysler Corporation, USA
01' 35", Music only
-
NOBODY IS ALONE
Internal Communications: Safety
Entrant: DeCo Media Oy, Finland
Client: Rautaruukki Oyj, Finland
05' 54", English
-
CC TV DECEMBER PROGRAMME HSBC LIVE! TV
Business TV / Inhouse TV: Internal Communications
Entrant: HSBC, Great Britain
09' 35", English


10:00 Uhr bis 15:00 Uhr Salon Schmidt im 2. Stock
Digital Professional Media Resource Center

Nutzen Sie die digitale Mediatheque zur individuellen Sichtung ausgezeichneter Programme, die Sie besonders interessieren und sprechen Sie mit den Machern oder Herausgebern - das WorldMediaFestival wurde ins Leben gerufen, den Ideen-Austausch zu fördern und damit neue kreative Lösungen zu inspirieren.
15:00 Uhr
Ende des Tagesprogramms
14. Mai Mittwoch - und am Abend dann :
17:00 Uhr bis ? Offenes Ende
Empfang | Awards Gala | Gesetztes Dinner | Getränke | Unterhaltung | Media Party


"Simply the best . . . " wir feiern die Preisträger !

Nicht im Schmidt Theater -
Einzelheiten zum Veranstaltungsort am Abend werden zu einem späteren Zeitpunkt mitgeteilt.
Willkommen beim WorldMediaFestival in Hamburg -
wir freuen uns auf Sie!