BLITZLICHT
Hamburg, April 2009
2009 Award Winners Announced

End of March this years' award winners have been notified - please check your eMail letter box. So now is the time to plan to join the celebration!
The Screening Day Day together with the Digital Media Resource Centre before the Awards Ceremony in the evening gives you an unrivalled opportunity to see the work of other programme-makers - from other countries, with other techniques, on other subjects - no other Festival in Europe provides such a chance to expand your professional horizons in this way.
Hamburg, Februar 2009
Neue Kategorien für historische Filme
"If you would understand anything, observe its beginning and its development." Aristotle
WorldMediaFestival bietet nun auch neue, zusätzliche Kategorien für "historische Filme" an, die vor 1980 produziert wurden. Die neuen Kategorien sind:
Advertising
Corporate Communications
Documentaries
Internal Communications
News
Public Relations
Sales Promotions
Training

:
:
:
:
:
:
:
:

Historical
Historical
Historical
Historical
Historical
Historical
Historical
Historical
Die Geschichte des Mediums "Film" begann mit einem "Industriefilm" im März 1895 in Frankreich, als Louis Lumière den knapp einminütigen Filmstreifen mit dem Titel "Arbeiter verlassen die Lumière Fabrik" vorführte, dieser Film wird allgemeinhin als der erste Film der Welt eingestuft und erfüllte alle wesentlichen Bedingungen, die bis heute an Industriefilme gestellt werden: sachgerechte Informationen über ein Thema aus dem Wirtschaftsleben und im Auftrag und auf Kosten eines Unternehmens entstanden. Wenn Sie sich diesen Film anschauen , werden Sie sich fragen, ob der jetzige Trend hin zu den ein-Minuten-Filmen nicht auch eine Wendung zurück zum Ursprung des Medium Film bedeuten könnte . . .
Hamburg, Februar 2009
15. Februar - Endgültiger Anmeldeschluss für Festivalbeiträge
eMail-Newsletter vom 03. Februar 2009
Mailing 02/2009
Hamburg, Januar 2009
Web TV | Corporate Film | Documentaries and more - -Global Call for Entries
eMail-Newsletter vom Januar 2009
Mailing 01/2009

Ho Ho Ho - bitte schalten Sie den Ton ein und singen Sie mit dieser "swinging" Weihnachtskarte. Mit den besten Wünschen für ein Frohes Fest und ein glückliches Neues Jahr an all unsere Freunde rund um die Welt! Vom 23. Dezember bis einschliesslich 4. Janaur sind unsere Büros geschlossen. eMails werden gelesen.
Hamburg, November 2008
global contest for Web TV | Corporate Film | Documentaries and more . . .
eMail-Newsletter vom 18. November 2008
Mailing 11/2008
Hamburg, Oktober 2008
2009 WorldMediaFestival Now Open For Entries
eMail-Newsletter vom 16. Oktober 2008
Mailing 10/2008
Hamburg, September 2008
Showcase in Tokyo with WorldMediaFestival Award Winning Films

On December 11, 2008 the Tokyo Screenings will be held at the Jiji Press Hall. This annual event organised by the Japan Association of Audiovisual Producers is an international showcase for Best of Corporate Film from around the world. Each of the programmes is introduced with background information and screened in Japanese. The seminar-style meeting provides the attendees i.e. members of the association, professionals from the business and industry as well as the press with the opportunity to see the international trends in film making. The following 2008 WorldMediaFestival award winning titles will be presented in Tokyo :
1. THE PLANET
Entrant: Westdeutscher Rundfunk Köln, Germany
Production: Charon Film AB, Sweden
2. HEARTLINES FOR GOOD
Entrant: Curious Pictures, South Africa
Client: Heartlines, South Africa
3. DEUTSCHE BAHN KONZERNTREFF 2006
Entrant: Cineteam Mediaworks GmbH, Germany
Client: Deutsche Bahn AG, Germany
4. TRUE
Entrant: Klaus E. Küster Werbeagentur GmbH, Germany
Client: Adolf Würth GmbH & Co. KG, Germany
Production: Fratelli Spirandelli Produktionsgesellschaft, Germany
5. VOLVO - 80 YEARS IN 90 SEC
Entrant: DOCKHOUSE FILM & TELEVISION AB, Sweden
Client: Volvo Car Corporation, Sweden
Agency: SCP Reklambyrå, Sweden
6. BECAUSE WE CARE
Entrant: DeCo Media Oy, Finland
Client: Aker Yards Finland, Finland
7. CADS II
Entrant: DOCKHOUSE FILM & TELEVISION AB, Sweden
Client: Volvo Car Corporation, Sweden
Agency: A+A Corporate Design AB, Sweden
8. DODGE JOURNEY
Entrant: MACKEVISION Medien Design GmbH, Germany
Client: DaimlerChrysler Corporation, USA
http://www.eibunren.or.jp/sekai/11th-a-i-screening.html
Hamburg, Mai 2008
Wir feiern die Preisträger - 9. WorldMediaFestival

Herzlichen Glückwunsch an alle 2008 Preisträger ! Wir danken all unseren Gästen rund um den Globus, die zu uns gekommen sind und ihre Auszeichnung persönlich während der Gala zur Preisverleihungszeremonie entgegen genommen haben - das hat uns sehr gefreut. Bitte schauen Sie sich nun die Photos zu den verschiedenen Programmpunkten an und auch diesen online-Trailer.
Hamburg, April 2008
2008 Preisträgerbenachrichtigung

Die diesjährigen Preisträger wurden benachrichtigt, bitte sehen Sie in Ihrem eMail-Briefkasten nach.
Kommen Sie zu uns und seien Sie dabei - der Screening Day zusammen mit dem Digitalen Professional Media Resource Centre vor der Gala für die Preisverleihungszeremonie gibt Ihnen die unvergleichbare Gelegenheit, Arbeiten anderer Programm-Macher zu sehen: aus anderen Ländern, mit anderen Techniken, zu anderen Themen. Ausserdem bringt Sie das kommunikative und gesellige Element des Festivals mit anderen Medienmachern und -Herausgebern ins Gespräch.
Hamburg, Februar 2008
WorldMediaFestival 2008 late closing date
eMail-Newsletter vom 6. Februar 2008
Mailing 02/2008
Hamburg, Januar 2008
WorldMediaFestival 2008 Deadline Approaching
Erfahren Sie mehr über News und Updates zum kommenden Festival in unserem eMail-Newsletter vom 10. Januar 2008.
Mailing 01/2008
Hamburg, Dezember 2007
Informationen zum Jahresende

Vom 24.12.07 bis einschl. 4.1.08 sind unsere Büros geschlossen. eMails werden gelesen.
Ein herzliches DANKESCHÖN an all unseren Freunde und Partner rund um den Globus verbunden mit den besten Wünschen für ein Frohes Weihnachtsfest und ein glückliches und erfolgreiches Neues Jahr.
Hamburg, November 2007
Call for Entries 2008

In der ersten Novemberwoche erfolgt der Postversand der gedruckten Broschüre Call for Entries 2008, in der auch unsere neuen Kategorien sowie die neuen Sponsoren und Partner vorgestellt werden. Bitte besuchen Sie die entsprechenden Webseiten, um weitere Einzelheiten zu erfahren und bitte kontaktieren Sie uns, falls Sie Fragen haben.
Hamburg, September 2007
Publicity in Japan für WorldMediaFestival-Preisträger
12. Dezember 2007 in Tokio:
Die Vorführung preisgekrünter WorldMediaFestival-Filme am 12. Dezember 2007 wird organisiert von der JAPAN ASSOCIATION OF AUDIOVISUAL PRODUCERS, INC. In der Jijitsuhin Hall in Tokio kommen die Mitglieder des Verbandes sowie zahlreiche Gäste aus Wirtschaft und Industrie zu einem Seminar-Event zusammen, um die besten internationalen Produktionen zu sehen. Jeder Film wird vom Vorsitzenden des Verbandes vorgestellt und läuft in japanischer Fassung:
1. "A TIME TO DELIVER"
Entrant: Cundari Group Ltd. Canada
Client: World AIDS Conference, Canada
2. "ACCESSABILITY NOW"
Entrant: Animech AB, Sweden
Client: Handisam, Sweden
Production: Webit Today AB / Animech AB, Sweden
3. "HILTI_SECRET-IN-A-BOX"
Entrant: next step Filmproduktion GmbH, Germany
Client: Hilti AG, Liechtenstein
4. "WATER MY LOVE"
Entrant: Syndicat des Eaux d'Ile-de-France
Production: Video Planning, France
5. "SMART MOVES"
Entrant: Media Production Amigos Ltd., Finland
Client: LC Logistics Center Ltd, Finland
6. "THE OLD WINDMILL SHOP"
Entrant: De Kroon, Wissenraet & Associés B.V., The Netherlands
Client: Nolet Distillery, The Netherlands
Hamburg, September 2007
2008 Einreichungen
WorldMediaFestival 2008 ist nun für Anmeldungen geöffnet. Bitte melden Sie Ihre Beiträge online an.
Hamburg, August 2007
Virtueller Marktplatz eröffnet
Veröffentlichen Sie Ihre Neuigkeiten, Nachrichten oder Anfragen - erreichen Sie die globale WorldMediaFestival-Gemeinde mit der Marktplatz-Webseite.
Zu den Kosten und Bedingungen senden Sie bitte eine mail an communication@worldmediafestival.org
Hamburg, April 2007
Die diesjährigen Preisträger wurden am 10. April benachrichtigt - bitte sehen Sie in Ihrem eMail-Briefkasten nach.


Hamburg, Februar 2007
WorldMediaFestival verlängerter Anmeldeschluss und Key Note 2007
FEBRUARY 28, 2007 - LATE CLOSING DATE FOR FESTIVAL ENTRIES

WorldMediaFestival - global competition for modern media
8th annual event May 8 + 9, 2007 in Germany's media metropolis Hamburg

www.worldmediafestival.org These sites have been re-launched -
please have a look and register your entries online today / Bitte melden Sie Ihre Beiträge heute online an

DIGITAL ASSET MANAGEMENT - Key Note at WorldMediaFestival 2007
Read more further below

Worldwide broadcast and non-broadcast entries for the following categories are invited:

:: Advertising
:: Animation
:: Business TV / Inhouse TV
:: Children's
:: Corporate Communications
:: Corporate TV
:: Documentaries
:: Internal Communications
:: News
:: Public Relations
:: Sales Promotions
:: Short Films
:: Training
:: WWWEB


plus sub-categories

BOOK YOUR ADVERTISEMENT NOW
for the printed festival catalogue 2007
and remain in contact long after the event:

1 page / Seite A5 4c
210 mm high - 148,5 mm broad
open Quark-, Illustrator-file or eps.
300 dpi minimum 4c cymk.

Inside / Innenteil: € 495
Cover page 2 or 3 / U2 oder U3: € 695
plus 19% VAT / MwSt

The ready-to-print ad is needed latest by mid March. Die druckfertige Vorlage wird bis spätestens Mitte März benötigt.

At the WorldMediaFestival
IT IS ALL ABOUT COMMUNICATIONS:

The concept of the WorldMediaFestival stands for more interaction.

It is all about communication and information - and helps you, by talking to others, to establish where you stand in an increasingly complex media world quickly and in a practical way.

The Screening Day before the Ceremony gives you an unrivalled opportunity to see the work of other programme-makers - in other countries, with other techniques, on other subjects. Also attend the "Best Practice" presentations by media professionals for media professionals.

No other Festival in Europe provides such a chance to expand your professional horizons in this way.

In addition, the social element of the Festival, that starts with the opening Get-Together in the evening of May 8 and concludes after the Awards Ceremony with the Media Party, gives you the chance to meet and talk to other programme-makers, as well as those who commission the programmes.

Please plan now to join us in Hamburg.
We look forward to meeting you. Sincerely,
CoraChinbuah@worldmediafestival.org

The WorldMediaFestival is an initiative by intermedia:

intermedia® provides you with the audiences for your av-messages, so that you reach your targets and target groups. No losses from scatter effect - your messages are specifically asked for by those who are interested in them. With a concept tested and proven.

Your informational film is the ideal medium to support your communications strategies. Why not give us a call? ++49+40+43 80 85
:::

Key Note 2007
by Mr. Khosrow Rafiy, Managing Director of Dubidot GmbH, Germany

DIGITAL ASSET MANAGEMENT - a solution by IBM Deutschland GmbH and Dubidot GmbH
Beispiel webbasiertes Videoarchiv: Bereitstellung von Filmmaterial für verschiedene Zielgruppen.

In Ihrem Unternehmen gibt es hunderte von Stunden teuer produziertes Videomaterial mit Imagefilmen, TV-Spots und Produktvideos. Statt dieses in Schränken und Schubladen verstauben zu lassen, wollen Sie Ihre Filme für Ihre interne und externe Kommunikation einsetzen und das Material verschiedensten Kanälen zur Verfügung stellen. Sie möchten Ihre Website attraktiver gestalten. Sie wollen die neuesten TV-Spots in Ihren Niederlassungen auf Displays präsentieren. Ihre Mitarbeiter möchten sich Produkt-Filme und begleitende Produktinformationen auf ihrem Handy ansehen und an interessierte Kunden weitersenden können. Der Imagefilm soll auf DVD als Messe-Handout ausgegeben werden. Ihre Agentur soll aus vorhandenem Video-Material neue TV-Spots kreieren. Außerdem möchte Ihre Marketingabteilung für ihre Projekte Videos und ergänzende Informationen (Produktbeschreibungen, Präsentationen, CAD-Zeichnungen etc.) suchen, finden und ansehen (Preview) können. Die Daten müssen auch in Broadcast-Qualität downloadfähig sein oder als Tape oder DVD bestellt werden können. Es gibt eine Lösung . . .

und wie diese für Sie nützlich sein kann, wird Ihnen beim WorldMediaFestival während des Screening Day von COMO Computer & Motion GmbH in einer praktischen Anwendung demonstriert - ProxSys ist ein leistungsstarkes System zur Verwaltung und Distribution von multimedialen Daten.
Hamburg, Dezember 2006
WorldMediaFestival 2007 Call for Entries

The printed brochure 2007 Call For Entries should have reached you some time ago now. At the end of this year our offices will be closed Dec 25 through 29 and also Jan 1, 2007. eMails will be checked.
Best wishes for a Merry Christmas and a Happy New Year to all our friends around the globe!


Tokio, 14. Dezember 2006
Japan Association of Audiovisual Producers, Inc
Award-winning WorldMediaFestival films at seminar in Tokyo
Dear Ms. Cora Chinbuah,
We wish to have expressed our gratitude for your coming to the screening in Japan last year.
Mr. Takeshi Osuka, vice president of our association, died on March 6 this year. His death was a big severe wound for us. But his will is succeeded, an international committee was started up with new members. Mr. Kimio Ito, President of Image Science and Mitsuro Makiguchi, Managing Director of Image Science joined as members. Of course, we also have obtained the strong support of Ms. Emiko Okumura.
We are planning the screening of the Corporate film that received the high appraisal in Europe and the United States this year.
We have got the high appraisal from the participant every year because this kind of film doesn't have the chance to be open to the public in Japan besides this screening.
Best regards,
Tadashi Ohkubo
Secretary-general
The annual Tokyo screenings including the following 2006 WorldMediaFestival award winning entries will be held December 14 at the Tokyo International Forum:
MAKE THE RIGHT CHOICE
Entrant: DeCo Media Oy, Client: Outokumpu Oyj, Finland
MERCEDES-BENZ-BIONIC CAR
Entrant: MACKEVISION Medien Design GmbH
Client: DaimlerChrysler AG, Germany
A STORE IN SHAPE AS NEW
Entrant: DOCKHOUSE FILM & TELEVISION AB, Sweden
Client: IKEA Systems B.V., The Netherlands
BCS INTERSTITIAL
Entrant: OgilvyOne Worldwide, Client: IBM France, France
MY DAD HAS EPILEPSY
Entrant: TVF Communications, Client: Pfizer Ltd., Great Britain
Hamburg, 9. Mai 2006
"Film WIRKT" - Erfolgsinvestition Corporate Films
Veranstalter und Gastgeber ist Hamburg@work in Kooperation mit
Arbeitskreis Audiovisuelle Medien bei Hamburg@work
intermedia / WorldMediaFestival-global competition for modern media
Erfahrene Kommunikationsmanager bedeutender Wirtschaftsunternehmen erläutern erfolgreiche Corporate-Film-Projekte, die 2005 beim WorldMediaFestival - global competition for modern media ausgezeichnet wurden.
Das Forum richtet sich an:
Führungskräfte aus Unternehmen, Verbänden und Organisationen, die für die Kommunikation und Öffentlichkeitsarbeit zuständig sind
PR-Fachleute, die im Auftrage ihrer Kunden agieren
Produzenten von Corporate Films sowie Autoren, Regisseure und Kameraleute
AV-Mediendienstleister
Fachjournalisten
Filme für die Kommunikation haben unterschiedliche und ganz spezielle Aufgaben.
Komplexe Botschaften verlangen sorgfältige Abstimmung bei Konzeption und Gestaltung zwischen Auftrageber und Produzent. Je genauer der Empfängerkreis der Botschaft erarbeitet ist, desto sicherer wird der Film seine angestrebte Wirkung entfalten und damit dem Auftraggeber nützlich sein.
Erfolg mit Film braucht Kontinuität und strategischen Weitblick.
Dieses Forum lässt Sie erfolgreichen Kommunikationsmanagern über die Schulter schauen, gibt Aufschluss über
Bedeutung und Möglichkeiten des Mediums
spezifische Vorteile
über Budget und Distribution
Uwe Jens Neumann, Vorstandsvorsitzender von Hamburg@work e.V., im Gespräch mit den Kommunikationsprofis
Andreas Martens
Director of Business, Development, Controlling and Marketing, Germanischer Lloyd AG, Hamburg, über den Film "Partners in Excellence - Germanischer LLoyd in China" und der Produktionsfirma BM8 GmbH aus Wedel bei Hamburg (auf Deutsch)


Lars Mossberg
Group Functions Communications, Vattenfall AB, Stockholm, über den Film "Vattenfall Corporate Film" (auf Englisch)
New York, 24. Januar 2006
Als langjähriges Mitglied des New York Festivals' Board of Judges & Advisors for the Film & Video Awards wird Cora Chinbuah am 24. Januar 2006 wieder an der Grand Awards Judging Session teilnehmen. Die Preisübergabe findet am Freitag, dem 27. Januar im Hudson Theater im Millennium Broadway Hotel am Times Square statt.
Tokio, 7. Dezember 2005
Japan Association of Audiovisual Producers:
Preisgekrönte WorldMediaFestival-Filme beim Seminar in Tokio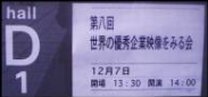 WorldMediaFestival goes East
Die Veranstalter des WorldMediaFestivals sind nach Japan gereist, um den Mitgliedern der Japan Association of Audiovisual Producers das Konzept des Festivals vorzustellen, ebenso wie einige der Gewinnerbeiträge aus dem Jahre 2005.
Der Verband hielt sein 8. jährliches Seminar am 7. Dezember 2005 im Tokyo International Forum. Das Thema der Veranstaltung "die besten, aktuell produzierten internationalen Corporate Filme". Das Seminar war gut besucht, rund 150 Mitglieder des Verbandes und andere interessierte Fachleute saßen im Publikum.
Cora Chinbuah (Gründerin und Eigentümerin des WorldMediaFestivals) gab eine Präsentation über Inhalt und Bedeutung internationaler Festivals: "Globaler Wettbewerb ist globale Kommunikation". Auch sprach sie über den Wert und Nutzen audiovisueller Kommunikationsmedien. Der Vortrag wurde von Emiko Okumura nicht nur vom Englischen ins Japanische übersetzt, sondern von ihr auch auf Japanisch vorgetragen. Ms. Emiko Okumura ist Mitglied des Distinguished Board of Advisors des WorldMediaFestival.
Im Anschluß an die Präsentation wurden 10 international ausgezeichnete Corporate Filme mit japanischen Untertiteln vorgeführt - 7 davon WorldMediaFestival Preisträgerfilme. Der Präsident des Verbandes gab vor der Vorführung jeweils eine Einführung in den Film, nannte die Produzenten und Herausgeber, erläuterte den Inhalt und Zweck.
Japanische Corporate Filmproduktionen sind ebenso modern und komplex wie andere auch, und doch aufgrund der Entfernung, der geographischen Lage und besonders der Sprachbarriere, zu einem gewissen Grad vom globalen Marktplatz isoliert. So bot das Seminar japanischen Produzenten einerseits die Chance, Eindrücke und Ideen darüber zu gewinnen, wie Länder anderer Kulturen Corporate Filme angehen, sie hatten Gelegenheit, sich selbst nicht nur im nationalen Maßstab einzuschätzen, aber auch im internationalen. Andererseits erhielten die hier vorgeführten preisgekrönten Filme eine weitere Chance, noch mehr Aufmerksamkeit zu gewinnen - über den normalen Radius des WorldMediaFestivals hinaus.