FESTIVALPROGRAMM

(Änderungen sind möglich)
IDEENBÖRSE: Seien Sie dabei - treffen Sie die internationalen Medienprofis, schauen Sie sich die Programme an, lassen Sie sich inspirieren . . . Sie sind herzlich willkommen, an allen WorldMediaFestival- Events teilzunehmen - ob Sie nun ein Preisträger/Einreicher sind - oder auch nicht.

Wenn Sie kein Preisträger/Einreicher sind - bitte hier anmelden.
Preisträger:
Sie erhalten einen besonderen Link mit Ihrer Gewinnerbenachrichtigung. Bitte benutzen Sie nur diesen Link für Ihre Registrierungen. Vielen Dank!
13. Mai Mittwoch - während des Tages :


09:30 Uhr - 15:00 Uhr


Erfrischungen und ein leichtes Mittagsbuffet stehen zur Verfügung


Vorführungen | Präsentationen | Digital Professional Media Resource Centre
EAST Hotel | Simon-von-Utrecht-Straße 31 | 20359 Hamburg
+49 (0)40 30 99 30 | www.east-hamburg.de
09:30 Uhr
Registrierung der 2009 WorldMediaFestival-Gäste
10:00 Uhr
Eröffnung des 10. WorldMediaFestival 2009
durch Mr. Grant Eustace, Mitglied des Board of Advisors
10:10 Uhr - 14:00 Uhr
Vorführung ausgewählter preisgekrönter Programme und
Präsentationen
und parallel dazu den Tag über von
10:00 Uhr bis 15:00 Uhr
Digital Professional Media Resource Center
Como Computer und Medien GmbH eine Focus ehancement company) und fat IT solutions präsentieren Como's Lösung für "Digital Asset Management" ProxSys Media Server MAM.
Nutzen Sie die digitale Mediatheque zur individuellen Sichtung ausgezeichneter Programme, die Sie besonders interessieren und sprechen Sie mit den Machern oder Herausgebern - das WorldMediaFestival wurde ins Leben gerufen, den Ideen-Austausch zu fördern und damit neue kreative Lösungen und Inhalte zu inspirieren.
-
GOOD PLANETS ARE HARD TO FIND
Advertising: Public Service Announcements
Entrant: NDTV Lifestyle Ltd., India
00' 55", Music only
English subtitles
-
RUHR.2010
Public Relations: Travel and Tourism
Entrant: Zeitsprung Entertainment GmbH, Germany
Client: RUHR.2010 GmbH, Germany
05' 25", Music only
-
THE RETURN OF A LEGACY
Corporate Communications: Other
Entrant: DENTSU TEC INC., Japan
Client: Canon Inc., Japan
Agency: DENTSU INC., Japan
07' 42", English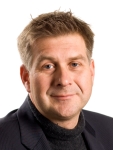 Key Note Presentation by
Norman Schlomka, VP European Operations & MD
COMO Computer & Motion GmbH
"DIGITAL MEDIA! HOW TO ARCHIVE COST EFFECTIVELY"
Norman Schlomka has been CEO of COMO since 1990, and so has some 20 years' experience of technology combining IT and Video. He will present solutions that are focused on a unified workflow to deal quickly with expensive media (P2, SxS, HDD-Recorders etc.), automatically archive the content to Blu-Ray Disc or HDD, and later on find and use the desired video material easily.
Since the Digital Revolution, the amount of video data has been growing with unprecedented speed, and Solid State technology is about to replace tapes entirely. But how do we keep control of this massive flood of media? A sophisticated yet easy-to-use archiving system is crucial, not only to the professional management of your media but also to build a secure long-term archive for the content provided by the Solid State media cards.
-
BROSE EVENT-TRAILER
Public Relations: Opening Trailers
Entrant: GoodFilm AV-Medien Consulting & Produktion GmbH, Germany
Client: Brose Fahrzeugteile GmbH & CO. Kommanditgesellschaft, Coburg, Germany
02' 26", Music only
-
HOTDOG
Education: Professional Education
Entrant: SHOOTING STAR FILMCOMPANY, The Netherlands
Client: Arbouw, The Netherlands
08' 47", Music only
-
THE BIRTH OF AN AIRPORT
Public Relations: Technology
Entrant: Hochkantfilm GmbH, Germany
Client: Siemens AG, Germany
05' 30", English
-
AMBITION -THE STORY OF KIKUNAE IKEDA,CHEMIST-
Education: General Education
Entrant: Group Gendai Films, Japan
Client: AJINOMOTO, Japan
Production: NHK ENTERPRISES, Japan
30' out of 48', English
-
TOYOTA iQ - KLEIN ABER OHO!
Animation: Computer
Entrant: RTT AG (Realtime Technology AG), Germany
Client: Toyota Motor Europe, Belgium
02' 34", Music only
-
250 YEARS MAN - SUCCESS THROUGH CHANGE
Public Relations: Image
Entrant: TVT Creative Media GmbH, Germany
Client: MAN Group, Germany
08' 45" English, German
-
ARMY ROAD TRAFFIC ACCIDENT FILM
Internal Communications: Training
Entrant: Jack Morton Worldwide, Great Britain
Client: Army AESB c/o COI, Great Britain
02' 00", English
-
WORLD DIABETES DAY FREEZE
Public Relations: Health
Entrant: Novo Nordisk A/S, Denmark
Production: Attention Film ApS, Denmark
01' 56", English
-
KFC CARNIVAL 2K9
Advertising: TV Commercials
Entrant: CMB Advertising, Trinidad and Tobago
Client: Prestige Holdings, Trinidad and Tobago
01' 12", Music only
-
...SO THAT NOBODY FEELS LEFT ALONE.
Public Relations: Human Relations and Values
Entrant: Avset Oy, Finland
Client: Mannerheim League for Child Welfare, and Folkhälsan Finland
06' 11", Finnish
with English subtitles
-
NOBODY´S PERFECT
Documentaries: Society and Social Issues
Entrant: Westdeutscher Rundfunk Köln, Germany
Production: Palladio Film GmbH & Co. KG, Germany
20' out of 84', German
with English subtitles
-
WE ARE DBS: LIVING, BREATHING ASIA
Internal Communications: Meeting Openers, Breaks, Closers
Entrant: Petal Productions Pte Ltd, Singapore
02' 15", English
-
THE GAME ON THE INSIDE
Public Relations: Medicine
Entrant: Animech AB, Sweden
Client: Recommended Sweden AB, Sweden
02' 07", Swedish
with English subtitles
-
BUTYL KEEPS YOU ROLLING
Sales Promotions: Introducing Institutions and Events
Entrant: facts+fiction GmbH, Germany
Client: Lanxess Deutschland GmbH, Germany
02' 40", English
-
S60 CONCEPT COUNTDOWN
Public Relations: Opening Trailers
Entrant: Edithouse Communication AB, Sweden
Client: Volvo Car Corporation, Sweden
02' 57", Music only
-
UNDER PRESSURE
Training: Safety
Entrant: köstersbüro für kommunikation gmbh, Germany
Client: Airbus Deutschland GmbH, Germany
17' 01", English, German
-
STEP BY STEP
Public Relations: Fundraising
Entrant: MoviesKy, Finland
09' 26", Finnish
with English subtitles
-
BERT & ERNIE'S GREAT ADVENTURES
Children's: Animation
Entrant: Sesame Workshop, USA
Production: Misseri Studio, Italy
05' 00", English
-
15 MINUTES WITH THE SWISS ARMED FORCES
Public Relations: Public Information
Entrant: Zentrum elektronische Medien VBS, Switzerland
Client: VBS Bereich Verteidigung, Switzerland
16' 13", English, German
-
THE DRIVING FORCE
Public Relations: Energy
Entrant: Animech AB, Sweden
Client: Jämtkraft AB, Sweden
12' 47", English
-
SMURFIT KAPPA CORRUGATED - CORPORATE DVD
Public Relations: Company Philosophy and Portrait
Entrant: Prime Concept GmbH, Austria
Client: Smurfit Kappa Interwell GmbH & Co KG, Austria
12' 45", English, German

15:00 Uhr
Ende des Tagesprogramms
13. Mai Mittwoch - und am Abend dann :
17:00 Uhr bis ? Ende offen
Empfang | Awards Gala | Gesetztes Dinner | Getränke | Unterhaltung | Media Party



"Simply the best . . . " wir feiern die Preisträger !

Einzelheiten zum Veranstaltungsort am Abend werden zu einem späteren Zeitpunkt mitgeteilt.
Willkommen beim WorldMediaFestival in Hamburg -
wir freuen uns auf Sie!