SCHEDULE OF EVENTS

(Changes are possible)
EXCHANGE OF IDEAS: Join us - meet the international media professionals, view the programmes, be inspired . . . You are very welcome to participate (winner or not, entrant or not) at these WorldMediaFestival-events.

When you are not a winner/entrant - please register here
Winners:
You will receive a special link included in the winner's notification. Please make sure to use that link for your registrations. Thank you!
May 19, Wednesday - during the day :




09:30 h - 15:00 h

Refreshments and light lunch buffet provided


Screenings | Presentations | Digital Professional Media Resource Centre
EAST Hotel | Simon-von-Utrecht-Straße 31 | 20359 Hamburg
+49 (0)40 30 99 30 | www.east-hamburg.de
09:30 h
WorldMediaFestival opens for guest registrations
10:00 h
Opening address of the 11th WorldMediaFestival
by Mr. Grant Eustace, Member of the Distinguished Board of Advisors
10:10 h - 14:00 h
Screenings of selected award winning programmes and presentations
and parallel throughout the day
10:00 h - 15:00 h
Digital Professional Media Resource Centre
powered by Como Computer und Motion GmbH (a Focus enhancements company) and fat IT solutions introducing Como's "Digital Asset Management" solution ProxSys Media Server MAM.
Make use of the digital mediatheque and view those award winning entries you are particularly interested in, talk to those who have made or commissioned them. After all - WorldMediaFestival has been created to support the exchange of ideas and to inspire new creative solutions and content.
Presentation and screenings in the private cinema:
-
SWISS LIFE - BOXER
Internal Communications: Motivation
Entrant: Seed Audio-Visual Communication AG, Switzerland
Client: Swiss Life, Switzerland
04' 15", English
-
UNLEASHED
Sales Promotions: Products
Entrant: Kemper Kommunikation GmbH, Germany
Client: Dr. Ing. h.c. F. Porsche AG, Germany
Production: Doppelgänger Film, Germany
07' 27", English
-
DIGNITY - HOW WOULD YOU FEEL?
Internal Communications: Employee Orientated
Entrant: I-MOTUS LLP, Great Britain
Client: Royal College of Nursing of the United Kingdom, Great Britain

02' 46", Music / English subtitles
-
BZGA: KENN DEIN LIMIT
Advertising: Public Service Announcements
Entrant: Naumann Film GmbH, Germany
Client: Bundeszentrale für gesundheitliche Aufklärung (BZgA), Germany
Agency: Schultze, Walther und Zahel GmbH, Germany
00' 56", Music / German subtitles
-
1001 INVENTIONS AND THE LIBRARY OF SECRETS
Education: High School
Entrant: The Edge Picture Company, Great Britain
Client: 1001 Inventions, Great Britain
12' 27", English
-
STUDY IN HOLLAND
Public Relations: Education
Entrant: Stetz BV, The Netherlands
Client: Nuffic, The Netherlands
05' 13", English
-
INNOVATION IN EVERYTHING WE DO
Public Relations: Global Issues
Entrant: Bayer CropScience, Germany
Agency: Hubbert von Sonntag Filmproduktion GmbH, Germany
07' 00", English
-
LOW IMPACT MAN
Entertainment: Reality
Entrant: deMENSEN, Belgium
Client: VRT-Canvas, Belgium
15' out of 25', Dutch with English subtitles
-
KINOSPOT DEUTSCHES BÄCKERHANDWERK
Advertising: Cinema Commercials
Entrant: trias GmbH, Germany
Client: Zentralverband des Deutschen Bäckerhandwerks, Berlin, Germany
Agency: Stiebel & Team Marketing und Managementberatung GmbH, Germany
00' 30 ", German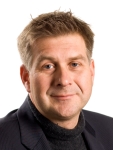 Presentation by
Norman Schlomka, VP European Operations & MD
COMO Computer & Motion GmbH
"DIGITAL MEDIA! HOW TO ARCHIVE COST EFFECTIVELY"
Norman Schlomka has been CEO of COMO since 1990, and so has some 20 years' experience of technology combining IT and Video. He will present solutions that are focused on a unified workflow to deal quickly with expensive media (P2, SxS, HDD-Recorders etc.), automatically archive the content to Blu-Ray Disc or HDD, and later on find and use the desired video material easily.
Since the Digital Revolution, the amount of video data has been growing with unprecedented speed, and Solid State technology is about to replace tapes entirely. But how do we keep control of this massive flood of media? A sophisticated yet easy-to-use archiving system is crucial, not only to the professional management of your media but also to build a secure long-term archive for the content provided by the Solid State media cards.
-
SAMURAI SPIRIT: KYUDO
Documentaries: Sports and Activities
Entrant: NHK (Japan Broadcasting Corp.), Japan
Agency: MICO (Media International Corporation), Japan
15' out of 44', English
-
EXGROUND FILMFEST DARKROOM
Sales Promotions: Opening Trailers
Entrant: dropout-films, Germany
Client: Wiesbadener Kinofestival e.V., Germany
Production: dropout-films/upstart!media, Germany
00' 58", Music
-
RYMD REKLAMBYRA
Public Relations: Opening Trailers
Entrant: Vingaland Film AB, Sweden
Client: Rymd Reklambyrå, Sweden
07' 41", Swedish with English subtitles
-
THE WARRIOR TRIBES OF NAGALAND
Documentaries: Travel
Entrant: NDTV Lifestyle Ltd., India
15' out of 50', English
-
ALERT TODAY ALIVE TOMORROW
Internal Communications: Safety
Entrant: Myriad Media, Great Britain
Client: Petroleum Development Oman, Oman
16' 00", English
-
TIME OF LEGEND
Documentaries: Arts
Entrant: Corporacion RTVE S.A., Spain
Production: Ático Siete S. A, Spain
15' out of 57', Spanish with English subtitles
-
INDUSTRIEGETRIEBE VON SEW-EURODRIVE
Animation: Computer
Entrant: Madness GmbH, Germany
Client: SEW-EURODRIVE GmbH & Co. KG, Germany
02' 31", Music / English subtitles
-
THE LANCASTER AT WAR
Documentaries: History
Entrant: ASA PRODUCTIONS (UK) LTD, Great Britain
Client: AETN UK A&E Television Networks, Great Britain
15' out of 47', English
-
LUFTHANSA MARKENAKADEMIE TOWER 360° PROJEKTION
Corporate Communications: Multi-Screen Video Presentations
Entrant: :: dan pearlman markenarchitektur GmbH, Germany
Client: Deutsche Lufthansa AG, Germany
03' 00", German
-
SEELENVÖGEL
Documentaries: Medicine
Entrant: Westdeutscher Rundfunk Köln / ARTE Redaktion, Germany
Production: Filmpunkt GmbH, Germany
15' out of 89', English
-
THE FUN CAPITAL OF THE WORLD
Sales Promotions: Destinations
Entrant: Moving Bits Pte Ltd., Singapore
Client: Resorts World at Sentosa Pte Ltd., Singapore
07' 45", Music

15:00 h
End of day events
May 19, Wednesday - and in the evening :
17:00 h - open end
Reception | Awards Gala | Sit-down dinner | Drinks | Entertainment | Media Party


"Simply the best . . . " we celebrate the winners !
Details about the evening location will be announced at a later date.
Welcome to WorldMediaFestival in Hamburg -
we look forward to seeing you soon !